ALPENHEAT

Heated Socks FIRE-SOCKS

RC
Model:

 

AJ27

-RC
FIRE-SOCKS, the heated socks from ALPENHEAT, keep your feet cosy and warm and are extremely comfortable to wear.
The heating element is embedded in the sock underneath the toes and works on a small compact battery that fits into the pocket at the top of the sock.
FIRE-SOCKS are available in four sizes, contain MERINO wool and with 3 heat settings keep you warm for 3.5 - 7.5 hours.
Special copper thread has been woven into the socks that hinders the growth of bacteria, preventing unpleasant odors and increasing the life cycle of the socks.
The batteries and heating element have been optimised for use in deep temperatures.
The batteries can be charged either with the USB cable or plugged into the charger and household power supply. The heat settings can be adjusted by remote control. 
Specification:
1. Heated Socks
Warm soft breathable material

Copper thread woven in to reduce bacteria
Material:


74% wool yarn (30% merino wool + 25% nylon + 45% acrylic fibre) + 10% copper wire + 8% spandex + 8% elastic



2. Heating Element:
Carbon thread heating element underneath the toes
3. ALPENHEAT Controller with Battery Packs
Remote control

High performance rechargeable Li-Ion batteries 

3.7V / 2.2 Ah / 8.14Wh

Battery pack: small, light (64g) und compact (55 x 86 x 11mm)

3 heat settings

Heating duration: 3.5 - 7.5 hours

 

Battery pocket directly on the sock
4. ALPENHEAT Charger 100-240V 50/60Hz
Charging time 4 hours

USB Y-Adapter cable

5V and 1000mAh load voltage
5. Sizes: unisex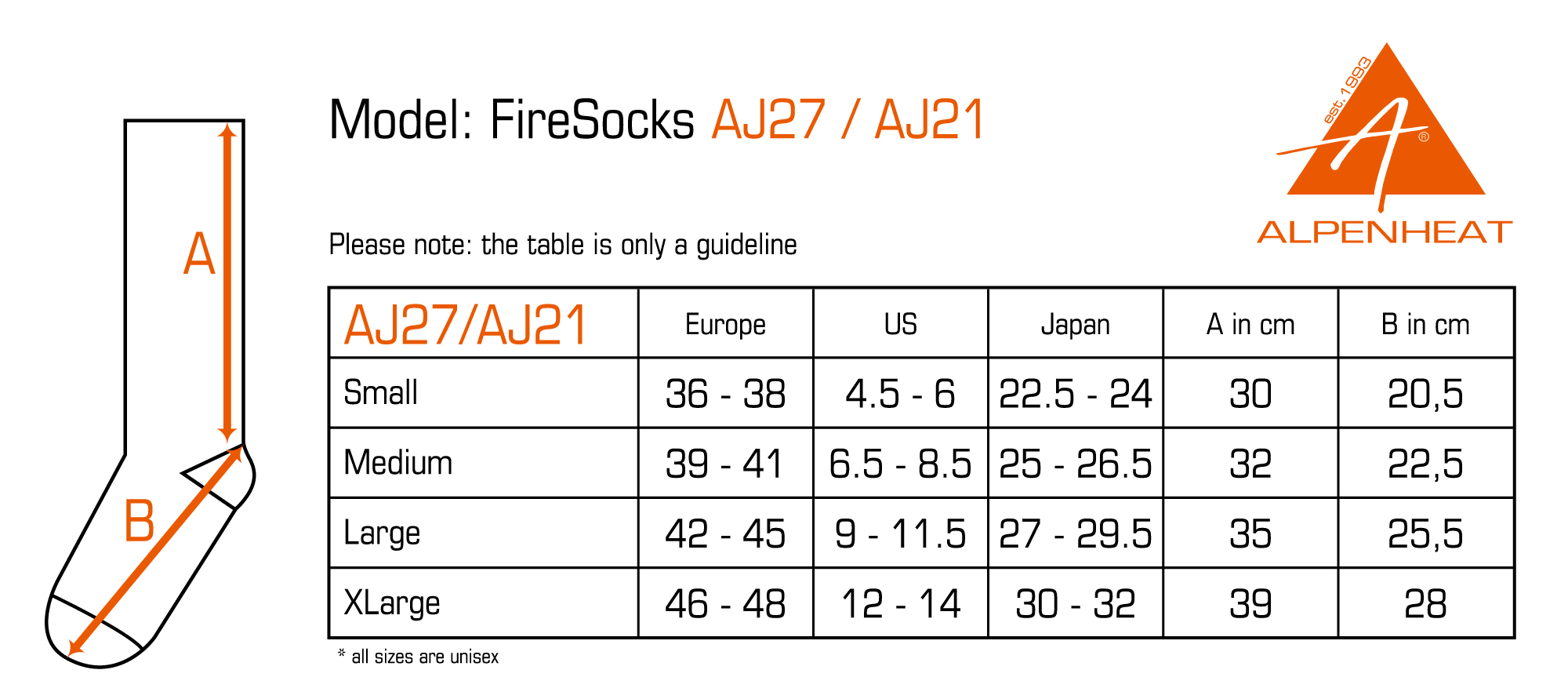 Set Content:
1 pair of socks (AJ21), 1 charger (LG18), 2 battery packs (BP18), 1 remote control (AC18)
AJ27-RC
Set: 1 pair of heated socks, 2 batteries, remote control, charger

Heating element under the toes

Copper thread woven in to reduce bacteria
Material: merino wool/spandex/elastic